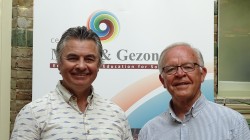 ​Onderzoekers van Regent University (USA) bezoeken CMG
23 juni 2017
Dr. William Brown en Dr. Benson Fraser brachten van 20 tot 22 juni een bezoek aan het Centrum Media & Gezondheid. Beide onderzoekers zijn verbonden aan de vakgroep Strategic Communication & Journalism van de Regent University, in Virginia (USA).
Zij verrichten o.a. onderzoek op het terrein van 'Media, Social Influences and Celebrity Endorsment' en hebben een interessante etnografische studie gedaan naar wereldwijde Elvis Presley fans en Elvis Presley impersonators. Deze studie is gepubliceerd in het Journal Mass Communication and Society. (
http://www.tandfonline.com/doi/abs/10.1207/S15327825MCS0502_5
).
In 2008 was William Brown Visiting Fulbright Professor bij het Centrum Media & Gezondheid. Tijdens zijn verblijf heeft hij samen met Dr. Martine Bouman een aantal artikelen geschreven over Entertainment-Education, Ethiek en Gezondheidscommunicatie. Zie het artikel '
Ethical Approaches to Lifestyle Campaigns'. Journal of Mass Media Ethics Exploring Questions of Media Morality, 25 (1), pp. 34-52
.
"You design wonderful projects around the world. I very much enjoyed reading your study results." (Benson Fraser, Regent University).
Terug naar het nieuwsoverzicht